Ways We Can Help Your Business or Organization Grow ...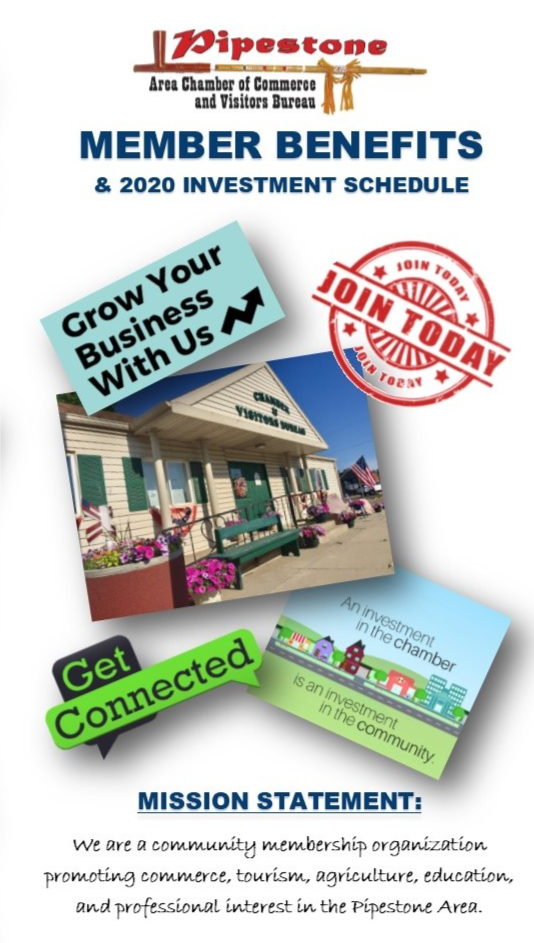 Networking & Building Relationships - Opportunities to network at Chamber sponsored events to build relationships with fellow members and generate new business.
Referrals - of your business to residents, chamber members, and people contacting the Chamber in need of services or products.
Promotional Display - Members are invited and urged to display business cards and brochures at the Chamber, giving business exposure to thousands of visitors annually.
Online Business Directory Listing - Free enhanced business listing with information about your business or organization on on the Chamber's website. Your enhanced listing includes areas for the following: Contact information, description of your business and services/products, logo, photos, video, map, links to your social media and website, email and phone links, and hours of operation.
Membership Plaque - Members receive a distinctive plaque and annual decal to let your customers know you are a community-minded, proud Pipestone Area Chamber member.
Pipestone Chamber Checks (a.k.a. "Chamber Bucks") - Promote local spending thru a very active Chamber Check program.
Electronic Newsletter - Weekly E-Newsletter of Chamber information and activities you need to know.
Advertising Opportunities - Promote your news, events, honors/awards, announcements, new staff, jobs, and new services/products.
Ribbon Cuttings, and Ambassador Visits - Enjoy the visibility of these ceremonies and make connections with our Chamber Ambassadors and community leaders.
Chamber Contracts - Primary consideration for Chamber contracts, purchases, and services.
Advocacy - City, County, State, and Federal Government
Discounts - Pipestone Chamber Members receive discounts ranging from registrations to sponsorships.
Auto Owners Insurance - Contact your Auto Owners Insurance Agent for a Chamber members-only discount.
Visitor Center - Enjoy the overall benefits of our staff running our active Convention and Visitors Bureau and promoting Pipestone to visitors and residents alike.
Committee Involvement - An opportunity to get involved in the community.  Members are invited to join a committee and add their voice to an area that interests them.
Complimentary Board Room Use - Members receive free use of our Chamber Board Room (subject to availability).