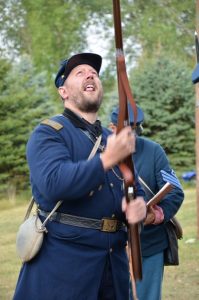 Local Accommodations: See our list of hotels and restaurants in Pipestone and the surrounding area. If the hotels in Pipestone are fully booked, there are other hotels available in the surrounding towns of Luverne, Marshall, and Worthington, MN and Flandreau and Sioux Falls, SD. There are also campgrounds available in the area. Contact the Pipestone Chamber office for more information.
Arrive Early: Gates open at 8 am with events scheduled from 9am - 4:30 pm and 8 pm - 10 pm on Saturday and 8am - 4pm on Sunday. We suggest you arrive at least two hours before the battle or plan to spend the afternoon at the site. If you arrive at the beginning of the battle you will miss all but a few of the wonderful activities we have planned for the weekend.
Within the festival grounds, some of the Sutlers accept credit/debit cards. HOWEVER, many food and drink vendors only accept CASH. We HIGHLY RECOMMEND stopping at a bank or ATM before visiting the event.
Parking is available on site, free of charge, on a first come first serve basis.
General Admission tickets admit you into the reenactment site, all activities and demonstrations. You may bring folding type lawn chairs and view the battlefield events from your own chair. Spaces are on a first come, first served basis. Arrive early if you intend to set up your chair near the front. There will be troop movement over the entire field; everyone will see some distant as well as close-up action.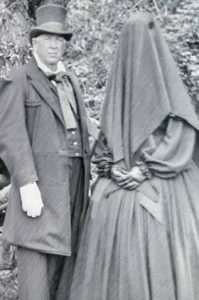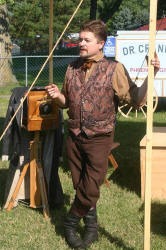 Food, beverages and souvenirs are available for purchase on the grounds. Many vendors only accept cash.
Wear and bring sunscreen with you. Be sure to wear light colored clothing, hats, comfortable shoes, sunglasses and sunscreen. Bring the bottle of sunscreen with you; it wears off after 2 hours. August is traditionally hot and sunny in Pipestone.
Sun umbrellas may be used right up until the guns can be heard, marking the start of the battle. They must be lowered at that time.
Video/Film equipment may not be used in any of the spectator areas if it requires a tripod or is shoulder held, such as larger camcorders. ONLY hand-held recorders can be used in spectator areas. No one may stand in front of lawn chair areas for filming and of course, you may not walk out on the battlefield during battle scenarios to take photos.
Young children and people with auditory sensitivity can be afraid of very loud noises; being close to the cannons can be a scary experience. Cotton helps dull the noise and may be a good idea for anyone near the big guns.
Strollers are permitted on the event site but may have a more difficult time maneuvering on uneven ground. CWD and its staff assume no liability for strollers and other personal property left unattended under the bleachers or any other location on the event site.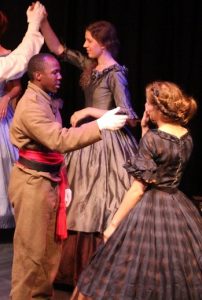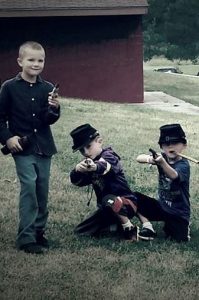 Bicycles may be ridden to the parking areas but not on site. We cannot provide security for bicycles.
Because of concerns regarding event public safety, no parcels or coolers larger than a handbag will be allowed through the event gates. Please leave these items at home or in your vehicle. All carry items can be subject to search prior to entering the event. Please allow extra time so we can enhance your safety!
No Pets, horses our other animals are allowed on site, in camps or in the parking areas. It is dangerous and against Minnesota law to leave pets unattended in vehicles, we ask that all animals be left at home.
Personal Handguns and live ammunition are not allowed to be carried on the event grounds due to Pipestone park ordinance.
Due to Minnesota state regulations and for the safety of everyone at the event, drones are not allowed on site, in camps or in the parking areas.
Looking for more information on how to become a reenactor?  All of our reenactors are volunteers, who have purchased their own clothing/gear and belong to organizations separate from Pipestone Civil War Days. PCWD does not hire reenactors to participate in the event other than performers listed on the schedule.
If you are interested in becoming a Civil War reenactor, we suggest you contact a reenacting group directly, such as the 13th US Infantry, Co. D based out of Sioux Falls, SD. The contact information for the commanders of the 13th is listed on the Reenactor's page.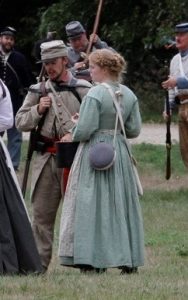 (Interpretation of these guidelines is the exclusive right of CWD and its staff.)